JOY IS WORK MADE VISIBLE, JOY COMES WHEN WE BELIEVE IN OURSELVES,
WHEN OUR LIVES MEAN SOMETHING, WHEN WE MAKE A DIFFERENCE IN THE WORLD.
Resume - Her Story - Joy House Music
More Songs written by AJE
She has had her songs placed in "Sabrina the teenage witch"
"Access Hollywood", "Nintendo Games" and many TV Movies
All songs are available to liscense
CERTIFICATES of APPRECIATION
SCHOOL and SHOW REFERENCES
PARENT and TEACHER REMARKS
Miss Joy, teacher and the creator of The Joy House was 2007 finalist for Time Warner's "Leader's in Learning" and "Cable in the classroom" for General Excellence for her innovative program and multi-media concept for children.
" We watch your show every all the time. Will you come and do my birthday part?. I'm turning 37. All my friends love your show. We are all still kids at heart!"
A VIEWER
"Congratulations your show is BRILLIANT. My kids were jumping, dancing and singing throughout the whole show"
A MOTHER
"She has an ability and gift to bring kid's a lot of joy and happiness through her songs and dance methods"
CHILDREN'S INSTITUTE INTERNATIONAL"..
A multi -talented artist. She can sing and dance. Miss Joy, Angelina Joy Emanuele, belts out catchy, positive, radio friendly, pop music that will have you tapping your foot in no time. I see STARDOM"
MUSIC CONNECTION
"Australian-born Angelina Joy Emanuele belts out original, high energy, radio friendly pop songs. Her noteworthy vocal abilities are well above the norm of many of the pop divas out there. She is a unique, charismatic and a spirited entertainer who gives it all she has. She'll have you shaking your booty in no time. And what she has to offer is high -energy dancing, charismatic stage presence and good dance pop tunes backed by solid vocals"
MUSIC CONNECTION
"A beautiful, multi-talented, singing, songwriting, song-writing, dancing, acting, teaching, giving, child-loving entertainer. Miss Joy's performances are rife with high - energy pop dance numbers that have awakened the dead"
BUZZ WEEKLY
"Stunning talent with a brilliant future"
TV GUIDE AUSTRALIA
" Joy's choreography provided a beautiful exit in celebration"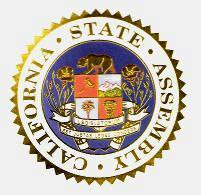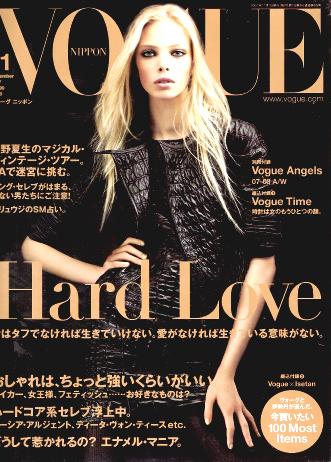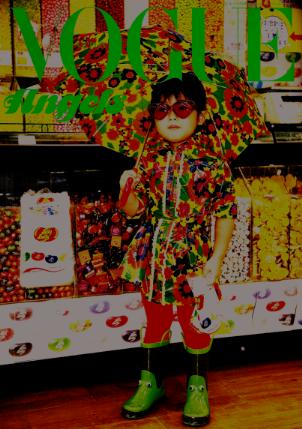 Miss Joy and The Joy House dance Party was featred in VOGUE JAPAN Oct 2007

Creative Child Magazine Article
http://www.birthdaypartyideas.com/html/dancestar.html
http://www.partypop.com/Vendors/276632.html



Adelaide Advertiser December 2004
…"Los Angeles own Angelina Joy Emanuele has been having quite a bit of luck of her own with her MUSIC DRIVEN kid's program THE JOY HOUSE. She has performed at just about every prestigious organization available and her show which airs every Saturday morning on L.A's Channel 36 - The Creative Learning Channel - is known for its mix of dance, ballet, music, gymnastics and design. "Music is one of the most powerful ways you can teach a child," says the musician and performer best known as simply Joy. Much of her show and programs she teaches at schools incorporate original compositions written by the star herself. It's an uplifting project, especially if you do the exercise the exercises along with your kids"
MUSIC CONNECTION,
Tom Kid's Show Biz JUNE 2001

http://www.lafamily.com/How to make your own "Joy House Dance Party" written by Joy
http://www.lafamily.com/The benefits of Dance Classes written by Joy

.."Please accept my congratulations on your selection of Andrew Lloyd Webber's Melbourne production of CATS. This is a splendid achievement reflecting both yourself and your teachers at The Center of the Performing Arts"
Lyn Arnold SOUTH AUSTRALIAN GOVERNMENT

Warmest Greetings
Miss Joy

Love
The Stallone Family
2005

Miss Joy taught Private Classes for Sylvester Stallones' s 3 Beautiful Daughter's and their 3 Beautiful Cousins
.."Joy to the world.....Local chanteuse Angelina Joy Emanuele received a certificate of Appreciation from Mayor Riordan. for her participation and performance at KTLA The Kid's day LA event sponsored by The Cultural Affairs, The City of Los Angeles, Target and Mervyns. Emanuele is the front woman behind the Los Angeles based THE JOY HOUSE, a multi-media live performance outlet for young singers and dancers. All the music used in The Joy House shows is written by Emanuele, an Australian expatriate and former model who studied dance in Monte Carlo. Buzz Weekly touted "Her performances have awakened the dead". Rock City News added "I see stardom!"
Tom Farrell MUSIC CONNECTION 2000
| | |
| --- | --- |
| ..."Australian-born Angelina Joy Emanuele belts out original, high energy, radio friendly pop music in the vein of Spice girls, Madonna and Paula Abdul. Her songs are well above average with "SINGLE GIRL" being the most noable. Her noteworthy vocal abilities are well above the norm of many of the pop divas out there. She is a unique, charismatic and spirited entertainer who gives it all she has. She'll have you shaking your booty in no time. And what she has to offer is high –energy dancing, charismatic stage presence and good dance pop tunes backed by solid vocals" Tom Farrell MUSIC CONNECTION 1998 | |
..."Don't miss THE JOY HOUSE. A new positive, interactive, dance, music, TV talk show. The ultimate hangout for kids, where kids can find "joy" in all they do. Teach a child to dream and you help keep a child out of trouble. Joy, the shows host and creator, sings and dances to her original music with hundreds of children from Los Angeles that range from 2-12 years of age. It's the kid's disco!" CELEBRITY NEWS MAGAZINE 1999
..."Why is a beautiful, multi-talented, singing, songwriting, song-writing, dancing, acting, teaching, giving, child-loving, girl like Angelina Joy Emanuele - with a sexy Australian accent, no less-single? Guess if she got hitched, she'd have to change the name of her show......Emanuele's performances are rife with high - energy pop dance numbers that have awakened the dead"
BUZZ WEEKLY (3 Stars)*** 1998
.."It's Tuesday and there wasn't much going on, so I decided to check out this show at the Martini Lounge. Upon my arrival I was treated to performance by a creamy thighed sex bomb. This somewhat Madonnaish vocalist gave a strong sensual performance...

With just back up tapes she had no choice but to shine... and believe it or not she was great! She even did costume changes on stage in between songs. There is great potential here for stardom for this girl. She just need s a break!"

Al Bowman ROCK CITY NEWS 1998
..."Who is this multi-talented artist Angelina Joy Emanuele? Angelina had a song she co-wrote with Brian Adler placed in an NBC movie and was featured on Groove radio103.1 with her song "Follow your heart" which was produced by Boris Midney. She has performed her original material with her band consisting of some of the world's finest musicians at The Hollywood Palace, The Hollywood Palladium, Universal Sheraton for The Nelson Mandela Multi-Cultural Event. She is presently performing her show "SINGLE GIRL".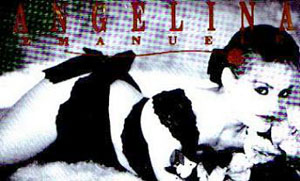 She was teaching at professional dance schools in Australia such as Bartuccio's and The Dance Factory. She is now taking her music and dance experience to the kids of Los Angeles via her dance program "The Joy of Dance", giving the kids the chance to dream, follow their hearts and dance." A labor of love she feels driven to do and is all part of her "big picture" of combining dance, music, the arts, the pop world and the commercial business world together in a positive and productive way".
Joey Lakes LA EXPRESS 1997
..."Angelina Joy Emanuele's choreography provided a beautiful exit in celebration"...

PEPPERDINE UNIVERSITY NEWSPAPER 1997
.."Top of the list danced Angelina. She was the fairest model of them all. The 19-year-old has been modeling for about a year but tonight she danced away with the award for Best Newcomer Photographic with a portfolio that won top marks from 10 judges. McLoeds Model Angelina's secret is dance!''
THE ADVERTISER Australia 1989

Advertisement for POMMERY Champagne

Advertisement for Parfum
..."15 year old ballerina earns prestige posting. Angelina is the third Australian to be selected for classes at The Princess Grace Ballet School in Monte Carlo by Madame Marika Besobrasova. She has been dancing for 7 years and is a former member of the Adelaide Dance Company."
THE ADVERTISER Australia 1985
..."Stunning talent with a great future" TV GUIDE Australia 1983..."Flashdance Champ will kick up a storm with dance sequences from the movie Flashdance"
THE ADVERTISER Australia 1983

"You were great! Keep Jumping....
I know you will make it!"
MALCOM McCLAREN
1983 Countdown Polygram
FlashDance Judge

..."She has a feeling of reaching and getting there. Angelina will show her style tonight on ABC's Polygram Countdown in front of Flashdance star, Jennifer Beals".
THE SUNDAY MAIL 1983
Companies, schools and events
Miss Joy has worked with/for or is involved with......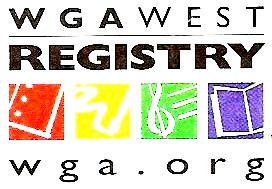 ...REFERENCES...
..."Thank you for serving as a judge for our 1998 Los Angeles pageant. it was a pleasure to have met and worked with you. We appreciate your time and effort" NATIONALS INC.

… " A gifted dancer with high energy, terrific patience and a great rapport with Kids. A versatile dancer with great stage presence and technique" Florence Sinay Director THE SINAY BALLET.

..."She has devoted her life to making people happy through her expressions in dance, music and art and now lately to teaching children. She is a blessing"
John Sterling THE JAZZ NETWORK

..."She is a creative artist who is hard working and an inspiration to many of the thousands of dancers that I photograph every year. She has worked as my assistant as a dance stylist while doubling as a make-up and hair stylist. She has an incredible eye for detail and can make everyone look good. It's been a pleasure working with Angelina over the years. She is definitely an asset to my company"
Paulo Da Silva DA SILVA STUDIOS

..."This letter will introduce Angelina Joy Emanuele who is a professional member of Actors Equity of Australia. She is in very good standing we would appreciate any assistance you can give her while in England"
Genenieve Picot State Secretary ACTORS EQUITY

..."One of the most talented and productive people I have ever met"
Erin Brady TOP 40 RADIO HOST

..."Thanks for your endurance and patience. Samsung Electronics loves the commercial. You were a pleasure to work with."
REBO STUDIOS.

... "The Phillips DVD commercial you performed in looked great. Thanks!" HOUSE OF USHER .

...You are a star! One day you will very popular on a world wide scale. Hang in there. You are a brilliant performer" ANONYMOUS .

..."Your song "rocks" I could wake up with listening to that"
A listener
GROOVE RADIO 103.1 Poorman's Morning Show
..."Thank you for a great show at The Palace in Hollywood"

Selma Schimmel VITAL OPTIONS
..."Thank you for participating in the most successful event yet staged by The Grand Prix Office. It was enhanced by your choreography, staging and polished performance. The Ball is recognized nationally as the social highlight of the year" Phil Stewart Special Events Manager AUSTRALIAN FORMULA GRAND PRIX OFFICE
..."We would like to take pleasure in congratulating
you on your spectacular performance"
Andrew Iaccinon Assistant Executive Director THE MELBOURNE LYGON ST. FESTIVAL

..."Your professionalism and splendid performance was a major contribution to the success of the evening which raised over $100,000.00 for The Open Family Foundation in their work with street kids" Cecile Blackman The heart of show Business THE VARIETY CLUB OF AUSTRALIA

..."Our client, L'Oreal, has unreserved praise for your production that you cast, directed and choreographed. They want to work with you again. Thanks for your great work" THE EVENT COMPANY

.."Please accept my congratulations on your selection of Andrew Lloyd Webber's Melbourne production of CATS. This is a splendid achievement reflecting both yourself and your teachers at The Center of the Performing Arts" Lyn Arnold SOUTH AUSTRALIAN GOVERNMENT Minister of Employment and Further Education.

..."Angelina has studied and passed in the ADVANCED CERTIFICATE in PERFORMANCE DANCE. She excelled in the following; Modern Dance, Classical Dance, Anatomy, Music, Improvisation, Release & Special Exercise, Character Dance, Technical Theater, Dance Theory, repertory, Choreography, Pas de Deux, Dance History, Jazz Dance, Tap Dance and Production Dance" Dr. Barry Young, Director CENTER OF THE PERFORMING ARTS

..."You danced superbly and worked exceptionally well. I wish you great success in your career, you certainly deserve it" Stephan Fisher Creative Director THOMPSON WHITE & PARTNERS ADVERTISING

..."Hi Angelina, you were terrific. Keep jumping. I'm sure you will make it. I hope I will meet you again" MALCOM McLAREN

.."Thanks for doing such a great job with casting and choreography for the Toyota Nissan Commercials. The client loved it!" MAL DWYER ADVERTISING

..."We're absolutely delighted with the commercial. Well done! Andy Way IAN MACRAE PRODUCTIONS

..."We wish to express our appreciation to you for your beautiful closing performance that you so generously extended to us with our 1983 Channel 9 Telethon Appeal. We raised a record breaking figure of $850,000.00 only made possible by the help and generosity of people like you. Everyone at NWS9 thank you most sincerely"
Tyrell Talbot General Manager CHANNEL 9 AUSTRALIA.
..."We wish Angelina every success in what we see
will be a very successful career" Vicki Bridglad
ABC's "A STATE WE'RE IN".

..."Congratulations on winning the State Final of Polygram's National Flashdance Competition" Grant Rule
ABC's COUNTDOWN

..."Congratulations on winning the South Australian Final of Polygram's National Flashdance Competition"Barry Hedges POLYGRAM Publicity and Promotions Manager
| | | |
| --- | --- | --- |
| | ..."Angelina is an earnest student, dedicated to the pursuit of excellence and it is to her merit she has managed to combine her studies with heavy dancing commitments and do exceptionally well in both. She is highly respected by both her peers and teachers. She was School Captain of the Junior school and has been a prominent student representative in student government throughout her 11 years at Scotch College. A straight "A" student in The Arts. She is a polite, honest, reliable and trustworthy girl with a great sense of humor. She will be missed but I know she has a fine future ahead of her" W.M Miles Headmaster SCOTCH COLLEGE | |

REFERENCES
..."In recognition of your outstanding contribution and wonderful performance at KIDS DAY LA. Your dedication to community service is truly commendable"
Richard J. Riordan, THE MAYOR OF LOS ANGELES
..."The lesson you provide for the children who participate in THE JOY HOUSE is invaluable. Building self-esteem by performing at a world class event. I commend your accomplishment"
Christina Martinez THE CITY OF LOS ANGELES LA MARATHON
..."The Joy House performance was instrumental in the outcome of the success of the event. Your show included audience participation and involvement. The crowd was pleased and requested more from you"
Ada Rodriguez BIENVENIDOS FAMILY SERVICES
..."She has an ability and gift to bring kid's a lot of joy and happiness through her songs and dance methods"
Sarah Trejos CII CHILDREN'S INSTITUTE INTERNATIONAL
..."Joy Thank you for doing such a wonderful job with our kids at Menlo School. They were so excited and happy. Your program is great. You look as though you are having as much fun as them!"
Mr. Chandler, Principal MENLO ELEMENTARY SCHOOL...
..."When you come to teach us it makes us happy"
The kids from Menlo School LA'S BEST – BEST FACES
"She has been a tremendous asset to my program, earning the affection of my children and the esteem of my parents. I am glad she works here"
Erik Hutchins Director INTERNATIONAL CHILDREN'S CENTER
… "One of the most exciting classes in the program, I will recommend the THE JOY HOUSE program for enrichment, education and self esteem"
Amy Klasky 3RD STREET SCHOOL
..."Joy is a joy. She has volunteered her time and shared her talent with our students" Marie Doree lambert MOTHER LILA SCHOOL
... " Your song Jump for Joy was the highlight of The Country School Winter Program and provided a big energy boost and inspiration for everyone, thank you for sharing your gift and talents with our children"
Michael Kaplin Music Director THE COUNTRY SCHOOL
..."Thank you for your continued support. The kids look forward to your class and miss you"
Keiko Johnson CANYON SCHOOL
...This girl is a "go getter." She is making it happen"
Marie Fegan DIRECTOR

... " The parents talk about you all the time your famous at home. The kids love you!"
Theresa Madday ST. JAMES SCHOOL
..."What a fantastic class!"
Ruth Director WAGON WHEEL
..."Your class is my favorite class in the whole wide world"
Skye Student CARPENTER SCHOOL
..."You give a lot of your time to the kids and they are getting a lot out of your classes. Thank you for coming to our school"
Susan Santos Director FUNTIME SCHOOL
PRESS RELEASE

THE JOY HOUSE is a new interactive multi - media TV Show and school program created and designed for kids of all ages ranging from 2 to 12 years. Joy and The Joy House is on a mission to bring the innocense back to kids in Los Angeles and the world. Something that is lacking so desparately these days in music, the arts, the quality of children's television programming and entertainment and after school activities.

THE JOY HOUSE aired weekly for rwo whole seasons on The Los Angeles Creative Learning Channel - LA Channel 36. There is nothing like it on TV. The response she has been getting is...........

"WE LOVE JOY AND THE JOY HOUSE!" / "THE JOY HOUSE ROCKS!" / "BRILLIANT IT'S JUST A MATTER OF TIME JOY" / "I WANT TO BE PART OF THE JOY HOUSE! HOW CAN I JOIN?" / "JOY, CAN I COME TOO!" / "I LOVE THE MUSIC, IT MAKES ME FEEL HAPPY!"

She has done all this alone without any funding or help. She knows it is just a matter of time until someone or the right company, is going to see it is time for something like this for kids. Her vision for kids is already becoming a reality.

THE JOY HOUSE is also being taught as an after school program at elementary schools and pre - schools around Los Angeles and The City of Santa Monica. This unique idea was created through teaching dance at pre - schools and elementary schools throughout Los Angeles by the multi talented artist, Angelina "Joy" Emanuele, from Australia.

JOY, as all the kids call her, a professional dancer, singer, choreographer, songwriter, an all round entertainer and producer has performed all around the world. By the age of 20 she had danced in Monte Carlo at The Princess Grace Academie de Danse Classique, Andrew Lloyd Webber's CATS, produced and directed her own dance company, choreographed and appeared in major commercials and events, danced in ballet companies in Australia and Europe, won Best Photographic Model and was Australia's National "Flashdance" Finalist at 14.

Leaving Australia in 1990 with a major musical recording career in mind, she decided to put her years in where she wanted to make it! She spent one year in London and from the advice of Micheal Rosenblatt, who she met at Geffen Records and thought her material was really strong, told her her music was more for the US. So she hopped on a plane and decided to make it happen in America. She has since had songs placed in major TV Shows and Movies, formed her own band consting of some of the world's best players, she created and performed her one woman rock cabaret show "SINGLE GIRL", which had great reviews and got back into teaching dance to kids, teaching to her own music, it was from seeing the kids response from hearing her music that she was inspired to create THE JOY HOUSE, which is slowly creating a life of it's own and has become a great artistic and creative outlet for this amazingly talented girl. She loves working with kids. She finds it truly fulfilling. The kids give her joy and she gives them joy. Give joy, get joy! A win/win situation! To love what you do in life is the greatest joy.

She has chosen now to devote her time, talent and creativity to the children. She saw how many kids were growing up. "If only they had had what she was so very fortunate to have as a child. If they could have a taste of what she was given. Experience her JOY HOUSE in Australia, where she grew up" she thought to herself. So she decided to build her JOY HOUSE for all kids. Seeing the lack of physical activity in schools and children's inability to entertain themselves in constructive ways, the constant exposure to negativity via television, movies, music and CD-ROM's. She saw a need to create a happy, positive, constructive and entertaining time and place for kids so they can be inspired and not get bored. THE JOY HOUSE is a special place where they can visit after school or on TV. A place where they can to learn to find their joy, learn new things and have fun! She sees the show eventually becoming interactive via the internet and TV streaming and later THE JOY HOUSE portal for kids. That is how THE JOY HOUSE has come to be. It is a very powerful 'multi-media' vision that is slowly but surely becoming a reality. Every child can find his or her special room and interest because THE JOY HOUSE is their house!

MUSIC is one of the most powerful and positive ways you can teach a child. THE JOY HOUSE TV SHOW is a music driven show. The show and the program's taught at schools incorporate ALL original songs and compositions written by Joy which she has called JOY HOUSE DANCE MUSIC. She sees THE JOY HOUSE becoming the hit factory for positive dance music for kids'. The demographic audience seems to be pre- schoolers to 4th graders. It is not Barney but it isn't Britney Spears it is right in the middle. Which could be one of the biggest music buying audiences. Music makes learning fun! Just watch the kids self-esteem and confidence improve. What one says manifests. Positive messages through music can result in a positive attitude & state of mind. The seeds to success in life. There is a need & there this a huge untapped market.

THE JOY HOUSE was being implemented in The LA'S BEST - BEST FACES after school program at Menlo Elementary in 2000, that was a special fund sponsored by The Mayor of Los Angeles. She also has received Certificates from Mayor Riordan for her work with kids and the community. She also is now currently teaching for The City of Santa Monica at The Myles Playhouse. She would like to see THE JOY HOUSE School Program duplicated in every inner city school. Where as you know there is not a lot for kids. THE JOY HOUSE needs sponsorship and funding. There is a desperate need to implement and duplicate her program in many more schools in Los Angeles that is why any kind of publicity would be greatly appreciated.

THE JOY HOUSE is the "coolest" place and a favorite class at school for hundreds of kids each week. In the school program and workshops, kids learn the basics of all styles of Dance, Gymnastics, Music, Designing and Performing. The program builds self esteem, confidence, flexibility, stamina and strength while teaching technique in a fun, cool and hip way, giving them the tools that may spark an interest and build their creativity. "Teach a child to dream and you help keep a child out of trouble". Students are also constantly given opportunities to perform with JOY around Los Angeles at community events. So far, JOY and the Kids have performed at the following..........

Companies and Events THE JOY HOUSE has performed at or been associated with:The City of Los Angeles Office of The Mayor, LA's Best - Best Faces, The City of Santa Monica, Los Angeles Unified School District, KTLA Kid's Day LA, KLCS "In Focus", The Cultural Affairs Department, LA Marathon, Best of LA Festival, The City of Los Angeles, The Los Angeles Young Chamber of Commerce Foster Family Picnic, Los Angeles Department of Recreation and Parks, Bienvienidos Family Services Latino Health Fair, The Office of Education, The Boys and Girls Club, LA Channel 36, AT&T Broadband Media One,TCI, SEAP School Entertainment & Activities Program, Unity in the Community sponsored by Groove Radio, Marina Del Rey Festival of Lights, USC Health Fair, Menlo Elementary, Marie Fegan Schools Inc., ICC Black History Month, All About Kids, The Sherman Oaks St. Fair, Los Felis Jewish Community Center, Nelson Mandela Multi Culteral Center, West Angeles Church of God and Christ, Children's Institute International, LILA's A Taste of France, St. James School, The Country School Celebrates 50 Years, Carpenter School Celebrates at CBS, The Baby, Child and Parent Expo, USC Health Fair for Menlo Elementary, LA Family Magazine, LA Parent, Pali Camp, Anderson Enrichment, Wonderland School of Dance, Six Flags Magic Mountain, Creative Child Magazine, Music Connection, Rock City News, Buzz Weekly.

She was featured on KLCS "In Focus", she has written for Creative Child Magazine and has also performed for SEAP (School Education Activities Program) at middle and high schools to great audience reactions and received great press for her work in all she endeavors.

THE JOY HOUSE has also become a big hit for kids as a children's Birthday Party. The Joy House Birthday Party! It is hip, cool, positive and fun! It is the ultimate party vibe for kids where kids have fun learning the joy of dancing, music, dress-up, make-up and games!

She is a winner, a hard worker and makes it happen. All ages love JOY! Her energy is contagious! The Joy House is the "new" vibe for kids. It is a win/win situation for all. It is universal, global and it works. Help kids help themselves.

Please sponsor, support, publicize and promote this unique program and vision for kids. Help Joy bring the arts back into schools and children's lives where it is so desparately needed.

Joy's goal is to have THE JOY HOUSE music driven TV Show for kids on Network Television, pumping out hit songs for kids and being produced in a way kids are constantly interacplace and entertainment venue or kids. A great Birthday Party idea for children. A place where kids can be entertained and learn the "joy" of many things!
She is on the search for investors with a universal vision for kids........

Copyright THE JOY HOUSE TM All rights reserved.