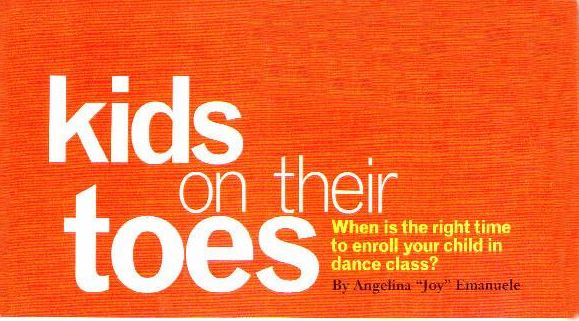 When is the right time to enroll your child in class?
By Angelina Joy Emanuele.
Toddlers love to move, stretch and jump. Teachers can introduce kids to new ways of moving their little bodies in entertaining and constructive ways. All forms of dance, gymnastics and creative movement can be very beneficial. Kids should be introduced to exercise and physical exercise as early as possible. It might take a little more money, but in the long run it can pay off. Introducing your child to dance is one of the greatest gifts you can give them. Dance promotes discipline, coordination,
Memory, flexibility, strength, line, grace and stamina. Performing builds positive self esteem, confidence, helps with other sports and is just great fun! All kids are capable of relating and understanding basic techniques that are shown to them and demonstrated properly. The vocabulary they learn through dance can help them express themselves through movement and naturally incorporate it into their lives so they can grow up healthy, active, productive adults.
Signing your child up in dance as soon as possible can be a great thing for him/her. Look for opportunities that your child's school my offer in classes and after – school programs. Many recreation centers also offer classes at very affordable rates.
As long as children can listen and stay focused, no age is too young to get them started. Of course, forcing children into any activity is never healthy. It's important to observe how they respond. Most places and programs offer a "trial class. This way you can "check it out" and see how your child responds.
For the real little ones Mommy/Daddy and Me classes can be a great way to spend quality time with your children. You can even practice with them at home. Keep in mind that dancing is a great activity for adults too. It can help parent's release tension, so let go and have fun! After all, we are all just little kids at heart.
If you notice that your child really shows an interest in a specific style of dance, it's wise to invest in a class or school that focuses on that style, such as ballet, jazz, hip- hop or gymnastics. In my classes I like to introduce to all the above to keep the class interesting so they don't get bored. Kids' attention span is about 45 minutes, so teachers always have to keep it fresh. As children get older and more serious, the length of the class and the amount of class per week my increase. Again, it might mean more running around for you, but if your child is fortunate enough to find something he or she loves to do, it's well worth the extra time and money. I'm the oldest of five kids and my parents ran around for all of us (ballet, jazz, soccer, gymnastics, music, football, cricket). I don'' know how they did it, but I'm so grateful because I am now blessed to be making a living doing what I love.
Try to find a teacher who inspires and has a true love and passion for what he or she teaches. It might be difficult, but be persistent because they are out there. And these days especially, teachers should be positive role models. The classroom, no matter what class it is, should be a sacred place, after the home, to install the seeds of success. Remember the 4 D's: DISCIPLINE, DETERMINATION, DEDICATION, DESIRE. Dance class can help your child conquer all four.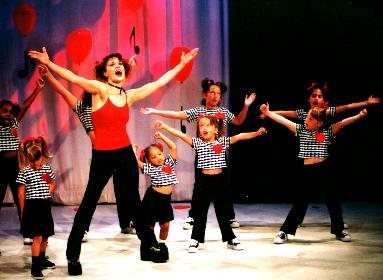 Are you ready to sing ?

HOME TV SHOW AFTER SCHOOL PROGRAMS BIRTHDAY PARTIES DANCE FOR ADULTS
DANCE FOR KIDS GIGS & EVENTS JOY SHOP PRESS REFERENCES WHO IS JOY
KIDS CLUB MUSIC BUSINESS OPPORTUNITY NEWS LETTER JOY'S FRIENDS