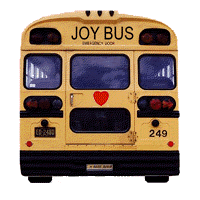 PLEASE NOTE
WE ARE LOOKING FOR INVESTORS
FOR THE JOY HOUSE MULTI MEDIA COMPANY
PLEASE SEE
Biz Page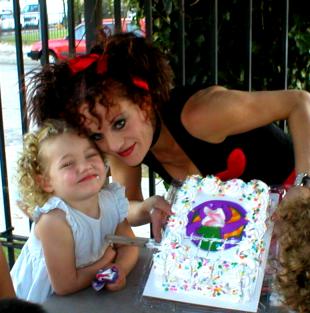 Miss Joy and her little joy ...
"Ema Joy" (her Baby Girl)
at her 3 year old Birthday Party 2005






































JOY HOUSE MUSIC
can be downloaded at Cdbaby.com and BurnLounge.com/thejoyhouse

Kids and parents love it......Soon The Joy House will be selling downloads at BurnLounge.com......I'll tell you more about it later.....It's a great way to promote your music and make lots of money!!! Let me know if you might be interested in getting into the digital download age....... I'll put in you touch with the top guys... this is going to be the next myspace.com





































PRESS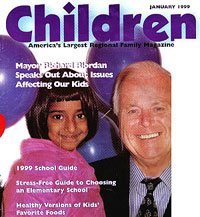 Please read Miss Joy's Article in
LA Family Children's Magazine
for Feb 2006




































THE JOY HOUSE BIRTHDAY PARTY or DANCE PARTY
CHECK OUT THE WEB SITE and go to Birthday Parties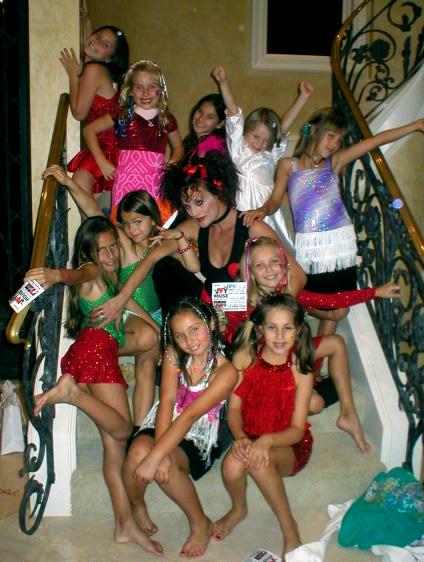 Joy is getting busy, rates are going up as follows..........Get the REAL Joy while you can!!!!
PARTY No.1
THE "BASIC" JOY HOUSE BIRTHDAY PARTY
Joy comes to you with make-up, dress-up, music, dancing, games, and FUN, FUN, FUN!
"It's The Joy House Kid's Disco!"
Cost
$275 for 1 hours
----$375 for 1 1/2 hours
$475 for 2 hours
Call today and get $50 off all party packages
Joy is available for performances to entertain the kids and the adults.....
at your next party, festival or event.
The adults love it and have fun too!





































SCHOOL PROGRAMS
Miss Joy is available to teach at you Pre School or Elementary School
Please go to School Programs
PRIVATE CLASSES AVAILABLE
You can have private lessons with Miss Joy
Her hourly fee is $150 an hour in the Los Angeles area.....but she will travel.
If you get a few friends together and split the fee it is VERY affordable!
Miss Joy has taught many celebrities kids.... ALL kids love working with Miss Joy
They learn lots and have so much FUN!!





































"I AM SPECIAL" Segment
Hey Kid's don't forget to put something together for the " I am Special" segment on THE JOY HOUSE TV Show. You can sing, dance, do magic, play an instrument, show your art work..... whatever you want to show us that you are good at. And don't forget "Animal Friends" bring your pet on the show. I will be shooting these segments on a monthly basis so when you are ready we can shoot for TV.
Call me..........Let me know when you are ready!
I CAN'T WAIT TO SEE WHAT YOU COME UP WITH! BE CREATIVE!!





































THE JOY HOUSE "TV TAPINGS"
New songs, new dances and guests. Don't miss out! This is a great experience for your child! Heaps of FUN! ALL shows Please wear black jazz pants or jeans and hair in high pigtails for girls See The Joy House TV SHOW
WESTCHESTER AT & T Broadband Public Access Studios
Date TBA
6314 Arizona Place, Los Angeles
Between Sepalveda and Centinela
(310)216 3525

OXNARD ADELHIA Public Access Studios
Date TBA
15055 Oxnard St, Van Nyes, CA, 91411 (818)781 1900
*****This will be the music videos "I'm a Tryer" and "I know what I got" I need all my kids who know it there……we will have "NEW Disco Costumes" please wear black pants and boots.
HOLLYWOOD AT & T Broadband Public Access Studios
Date TBA
900 Cahuenga Blvd, Hollywood
Between Willoughby and Santa Monica (enter Lillian Way)
ADELPHIA SANTA MONICA Public Access Studios
Date TBA
2939 Nebraska Ave, Santa Monica
1 block north Olympic Blvd. between Centinela and Stewart in Santa Monica
(310) 315 4444
MARINA DEL REY AT & T Broadband Public Access Studios
Date TBA
4223 Glencoe (cross street Maxella) in Marina Del Rey
(310)822 1575

FOR ALL TAPINGS and LIVE SHOWS
Black Jazz Pants or Jeans girls have hair up in high pigtails. I have tops and ribbons
PLEASE CALL (323)969 2528
Or Email: joy@thejoyhouse.com to let me know if you'll be coming!!
My cell is (213)215 8695 for emergencies THANK YOU!





































PLEASE NOTE
For all shows a donation of $15 would be greatly appreciated.
This $15 is not mandatory it is optional but please note a lot of time and money goes into preparing, organizing, recording, costuming, buying tapes and editing THE JOY HOUSE, I work very hard constantly to make it fun and original for your kids. I know your children enjoy what I'm doing (and what I am building for all kids), I know they are getting a lot out of it, so your donation is greatly appreciated. At this point in time THE JOY HOUSE has no funding or sponsorship. I rely on class payments and donations only. Thanks for you cooperation. Give Joy, Get Joy!!





































JUST A NOTE FROM JOY
I want to let you know that the shows and TV Shows are getting better and better. A lot of people have seen and love The Joy House TV Show... they watch it every Saturday. How about that boys and girls!
Also many of my past students have been working regularly in the industry. My kids have been featured in the following: Julia Robert's Erin Brokovich (playing her daughter), many independent films and major commercials.
This class gives kids confidence for auditions! It works!
But my main goal with THE JOY HOUSE is to implement positive self esteem and make it FUN!
To keep up to date with what is happening with classes, shows and events always check the NEWSLETTER on the web site and you'll find out everything you need to know
Please call or Email ASAP if your child will be performing in any shows or TV tapings ASAP
Thank you for your support
Love JOY XXXXXX.........

Give Joy, Get Joy!